Kambukka
Regular price
RM149.00 MYR
Regular price
Sale price
RM149.00 MYR
Unit price
per
Sale
Sold out
YOUR DESK DESERVES BETTER

The Etna thermal bottle serves you a hot coffee when you struggle to stay awake at work, or an ice-cold drink after a tough workout. When you're on your way from one activity to the next, it will not only keep your drink hot for 5 hours (300 ml) or 9 hours (500 ml) and cold for 11 hours (300 ml) or 18 hours (500 ml), but also prevent it from leaking.

Wherever you are, you can always rely on the drinking position you need thanks to the handy 3 in 1 lid: push to take a sip, open to drink like you're holding a cup and lock to head to the next adventure. Want to clean your bottle after a busy day? Relax, the bottle has a dishwasher-safe lid and Snapclean® technology! Just pinch and pull to remove the inner mechanism.

H.: 15.3 cm
H without lid: 11.6 cm
Ø widest point: 7.1 cm

How to make sure not a single drop of tea, coffee or sports drink stays behind when you clean your bottle? We've got it covered.

Thanks to our patent pending Snapclean® feature you just pinch and pull to remove the inner mechanism in one piece. By the way, all our lids are dishwasher safe. Easy!

Just pinch and pull to remove the inner mechanism in one piece
All parts are dishwasher safe
No more stains nestling in nooks
MIX AND MATCH AS YOU LIKE

Do you like your drinks icy cold on those hot summer days? Just combine your thermal mug with the lid of your water bottle as you can mix and match our bottles and lids and customise your perfect drinking experience.

Don't worry about your hot drinks either, by the way. All Kambukka lids are resistant to high temperatures.

3 IN 1 LID FOR THE PERFECT DRINKING EXPERIENCE



Slowly waking up behind your desk with your morning cup of coffee in hand is a different kind of drinking experience than hastily knocking back an espresso on your way to your next meeting.

That's why our cleverly designed 3 in 1 lid with Snapclean®technology has three positions. Just push the slider to enable the…

'Push' position: push the button every time you want to take a sip. No more spills when you're training for a marathon or – let's be realistic – running to catch a train.
'Always open' position: just drink from your bottle like you're drinking from a cup. Perfect for relaxed situations at the office or during a well-deserved break.
'Locked' position: the leak-proof position for people on the go. 100% backpack-proof.

SNAPCLEAN®: JUST PINCH AND PULL
How to make sure not a single drop of tea, coffee or sports drink stays behind when you clean your bottle? We've got it covered.Thanks to our
patent pending Snapclean® feature
you just pinch and pull to remove the inner mechanism in one piece. By the way, all our lids are dishwasher safe. Easy!
Just pinch and pull to remove the inner mechanism in one piece
All parts are dishwasher safe
No more stains nestling in nook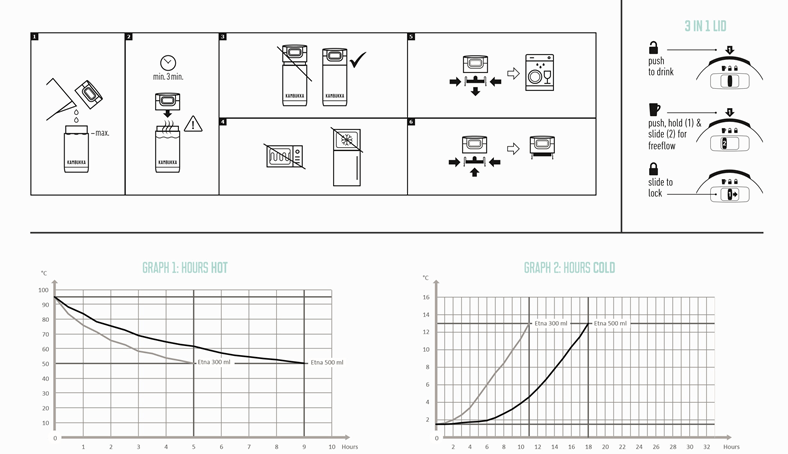 Share
View full details